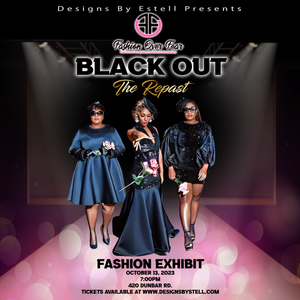 Fashion Over Fear 2023 Sponsorship
                                                          SPONSORSHIP
I hope this letter finds you in good health and high spirits. I am writing to you on behalf of Fashion Over Fear, a dynamic fashion brand that is passionate about empowering individuals to embrace their true potential and overcome their fears. We are reaching out to request your valued support and sponsorship for our upcoming projects and initiatives.
Fashion Over Fear is not just a brand; it is a movement that aims to inspire men and women to shed their inhibitions, embrace self-confidence, and live life to the fullest. Our mission is to encourage individuals to be the best version of themselves, letting fear fade away and unlocking their true potential. Through our fashion collections and events, we strive to create a positive impact and uplift individuals from all walks of life.
For the last 4 years, we have created numerous custom gowns for seniors and brides. We've found that prom is one of the most important days of a young girl's life, but for some, it's devastating. We live in a world of "go big or go home" which makes it harder and harder for those who are less fortunate to participate in the festivities. For this year's show, we are taking yet another leap in starting something new. We would like to give back to one senior in 2024. We will be sponsoring a custom dress, jewelry, shoes, and a laptop to one deserving senior female who has a financial hardship. Your sponsorship would allow us to kick this charity off in a major way and be a huge blessing to a young lady in celebrating her next phase of life. 
To introduce this philanthropic effort, we are excited to announce our upcoming fashion exhibit, where we will showcase pieces from our collection and celebrate the journey of self-empowerment and personal growth. This event will serve as a platform to inspire others to break free from their comfort zones. 
We anticipate a diverse audience of fashion enthusiasts, professionals, and influencers who are aligned with our mission and values. Your sponsorship and support would be instrumental in making this event a resounding success. By partnering with Fashion Over Fear, you will not only be associated with a brand committed to positive change but also have the opportunity to reach a wide audience of engaged and passionate individuals. Your brand will be prominently featured in our event promotions, marketing materials, and social media campaigns, allowing for increased brand visibility and recognition.
We offer various sponsorship levels and opportunities for collaboration, each providing unique benefits and exposure. Below we have outlined the different levels of sponsorship and the associated benefits. We would be delighted to discuss these options in more detail and tailor a sponsorship package that aligns with your organization's objectives and marketing goals. We value your input and are open to creative ideas and collaborations that mutually benefit both parties. 
In exchange for your generosity and support, your name or the name of your business will be displayed throughout the event and you will receive special recognition at the event and on social media platforms. 
Sponsorship levels are as follows:


BLACKOUT Sponsorship $1000   
Six VIP tickets

Sponsored Table 

Early Access (Cocktail Hour)

Business on all marketing materials 

Business advertised at one of the fashion exhibits created for the night

Three minute speaking opportunity (optional)

Swag bag marketing

T-shirt 

Vendor table
 Gold Sponsorship $750
Four VIP tickets 

Sponsored Seating 

Early Access (Cocktail Hour)

Swag bag marketing

T-shirt

Show recognition
 Pink Sponsorship $500 
Two VIP tickets 

Sponsored Seating 

Early Access (Cocktail Hour)

Swag bag marketing

T-shirt

Show recognition
Sparkle Sponsorship $250
One VIP ticket

Early Access (Cocktail Hour)

Swag bag marketing

Sponsored seating
BFF Sponsor $100  
One VIP ticket

Early Access (Cocktail Hour)

Sponsored seating
Thank you for considering our sponsorship request for Fashion Over Fear. We firmly believe that with your support, we can continue to inspire and uplift individuals, fostering a generation that embraces self-expression and personal growth. We look forward to the possibility of working together and creating a lasting impact. 
Should you have any questions about sponsorship, donation, or The Fashion Over Fear show exhibit, please do not hesitate to contact
Cherika Ratchford
by phone at
901-859-9415
or email at
info@designsbyestell.com
.