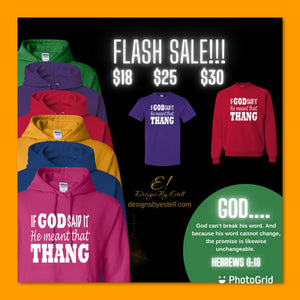 FLASH SALE Hebrew 6:18
Listen!!!! God can't break his word!!!! I'm standing on that going into 2023!!! This is a great gift idea for those who know, needs a reminder, or just need a good encouraging statement tee! 


🚨All items are unisex!!! 


Tee- $18
Sweatshirt- $25
Hoodie- $30 
🚨ADD YOUR DESIRED COLOR AT CHECKOUT IN THE COMMENTS!!! It does not have to be the colors in the flyer!!! 
🚨White is the ONLY DESIGN COLOR OPTION!!!!