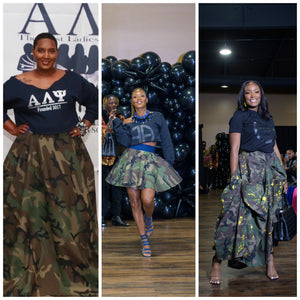 Red Carpet Camo Skirt
This skirt is definitely a conversation starter. Camo is just as versatile as denim. You can dress it up for a night out or you can throw on a statement tee and hit the town. Either way, you will be a showstopper for sure. This is real Camo fabric and is not light weight. It's very similar to real denim. If you would like for the skirt to touch the floor, please take the length measurements with heels on (if you plan to wear heels). 
Measurements Needed: Waist (One inch above the belly button) and the length from waist to knee or floor depending on the length you would like.
Please be advised, this item can take up to 21 business days to complete and 30 days during the holiday season (November- January).